Lesson Program Faculty
Cathy Coonis
Clarinet and Saxophone Instruction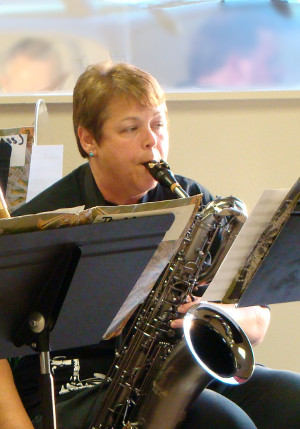 ---
Cathy Coonis graduated from Republic H.S. in 1975, then attended College of the Ozarks (which was School of the Ozarks at the time) where she earned her B.A. degree in Music Education and Spanish. She earned her M.S. degree from MSU (SMSU at the time) in Education with a Music Emphasis in 1994. She recently completed her 36th year of teaching in the public schools.
She taught elementary music at Cuba, MO from 1980-'81, then moved to Marshfield where she taught elementary music and assisted with the band program from 1981-1995. The following year (1995-'96), she taught band in Springfield, at Pershing Middle School and Glendale H.S. (as an assistant to the band director). She then went to Seymour where she has taught for the last 20 years. She served as elementary music teacher and choir director for 2 years, took the position as band director and Spanish teacher for 8 years, then retired and worked part-time as the assistant band director and Spanish teacher for 10 years.
Performance is a big part of her life. She has sung with the Springfield Mid-America Singers for over 30 years and is a member of the Springfield Drury Jazz Orchestra, Wings of Swing Big Band and performed with Queen City Dance Band. She performs from time to time with the Republic Community Band and served as director for the Webster County Community Band. She has performed at Springfield Little Theater (both on stage and in the orchestra pit) and in productions with the Springfield Regional Opera. As a member of the Seymour Area Arts Council, she is responsible for setting up the concerts the Council sponsors. She is also responsible for booking the bands for the Seymour Apple Festival. She is frequently hired to judge music festivals, both field marching and concert band.
She has traveled extensively overseas, both on private tours as well as tours with students (the Missouri Ambassadors of Music). She has performed in London (Wesley Chapel, Victoria Embankment Gardens, Westminster Cathedral), Paris (San Severin, Luxembourg Gardens), multiple venues in Switzerland, Austria, Germany, Venice (St. Mark's Cathedral), Carnegie Hall and the Sydney Opera House.
For more information, you can contact Ms. Coonis directly at:
cdcoonis (at) hotmail (dot) com